Personal Chauffeur Service Virginia
EK Private Chauffeur Concierge provide  a private chauffeur in Virginia  to act as your personal driver for the day or evening, no matter how many stops you need to make for any event. Our private chauffeur in Virginia  arrives at your home/Hotel/office place etc at the requested time, dressed in professional attire, ready to verified licensed chauffeurs you in your or our vehicle wherever you want to go. Whenever you're ready, you and your car will be returned back safely as you wish.
YOUR CAR OUR CHAUFFEUR
A Private Chauffeur service should be adaptive and dedicated to your comfort. It's all encompassing, referring to personal driver, personal chauffeur, private driver or even a designated driver—EK Private Chauffeur Concierge Virginia  Drivers provides the right private chauffeur in Virginia  to drive your vehicle while you work, entertain, or rest & relax in the back seat.
Private Car Service
Just One Call away, you can hire a Private Chauffeur in Virginia  to act as your personal driver for the day or evening, you can do as many stops you need to make unlimited mileage. Dressed in professional attire Black and white, ready to chauffeur you in your vehicle wherever you wish to go. When you're ready, you and your car will be delivered back home safely. Rent sport luxury cars night out so no worries NO DUI we are your personal driver .
Book Driver
If you have already driven somewhere, use our EK Private Chauffeur Concierge  pickup service to get you and your car back home. We'll dispatch two private chauffeur to your location, one to drive you home in your vehicle and the other to pick up your driver when finished.
When it comes to your personal or business needs, hiring a personal driver in Virignia  can help with your transportation needs and place you in a better state of mind during your busy times.
Rent a Private Chauffeur  for Event
We provide a streamlined and stress free experience
Once your booking is confirmed, you'll be allocated a professional driver within our company either on a part time or monthly basis to drive you around Washington DC area , Maryland and Virginia . Your Private chauffeur Virginia will either drive in your car or one of our luxury cars. You may be required to complete a preference sheet ahead of your booking commencing. This enables your Private Chauffeur Virginia  to get to know you better so that they can provide top-class service and get their job done.
Attention to detail is everything
Regardless of the duration of your booking, in addition to your preference sheet, your Private Chauffeur Virignia  will spend the necessary time getting to know your habits such as the temperature you would like the car at, the route you prefer or the coffee that you would like in the morning. By taking those few extra minutes, we can show our clients our staff take their duties seriously and will always maintain a professional and friendly service.
We go the extra mile for our clients
Our Private Chauffeur in VIrginia VA  duties are not just limited to driving you to and from one location in Washington DC  to the next. On arrangement, your allocated our Private Chauffeur can assist with running errands around Washington DC metro area  for you to save you time. Having added services brings convenience as well as a unique experience for clients. Please email through your request and we can let you know what is possible.
Best Wedding Limo Services in Frederick MD !
Considering hiring a wedding limo to get you to and from on your big day?
According to Statista, approximately 1/3 of adults still want to get married at some point in their lives.
Ordering car service is a wise and popular choice.
There are various options for how to get to our wedding destination during your special day. However, nothing is like having a unique and luxurious limousine ride. We have an amazing limousine fleet to make you happy.
You can either enjoy the ride with your signature alone.
Or, you can take your bridesmaids with you on the way to a ceremony. Different people from different cultures have their own preferences about wedding limo ride.
You would feel like royalty on your big date.
Definitely, on this special for you, perhaps, one in a lifetime occasion, you deserve a memorable, one-of-a-kind, unique experience.
While every day of everyone's life should be unique, the wedding a date in which we put lot's of thoughts and planning.
Our Limousines & Party Buses for Your Wedding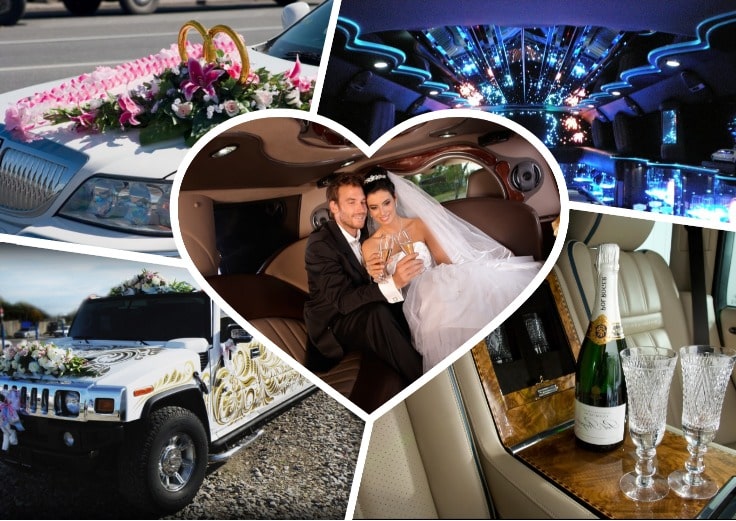 Opposite to what many people believe, a limousine isn't a brand of car, it's a type of car. Precisely, a luxury vehicle, mostly driven by a chauffeur with a partition between the front seat and the back.
Usually, limousines lead to be stretch versions of other luxury vehicles, such as Hummers and Chryslers. Our company has an extensive collection of cars, so you can choose from a town car, to stretch limo, to party buses.
Also, if for some reason we don't have your dream wedding limo rental car, we still can get it for you from our partner company on a snap of fingers.
We take our Wedding limo service in Frederick MD to the next level.
You can not only get from point A to point B. You, also go on any tour of your choice after your wedding ceremony. Or you can start celebrating your wedding on our party bus. Later, you can continue at your scheduled wedding ceremony venue.
Limousines of wedding limo rental are a popular choice at weddings because they usually seat at least ten people. Also, they are associated with luxury, which is the perfect feel for your wedding day.
Unique wedding experience.
Since people associate limousine service with a luxury experience, whatever size limo you choose for your special day, require it to include lots of extras. Our cars provide high-quality sound systems and TV screens, bars, beautiful lights, soft drinks, snacks, and champaign.
Ordering EK Private Chauffeur Concierge will be unforgettable.
Many people have never had the luxury of limousine ride in their entire life. Going to your wedding super special day, having an exceptional limo, and being dressed like a movie star, will take you to the center of everyone's attention. A limousine ride will make your dream day even more unique and memorable.
Our company offers limousine rental of various brands. We have multiple choices of wedding limos for any the budget. While we specialize in premium quality vehicles, we also have budget limos which are pretty amazing as well.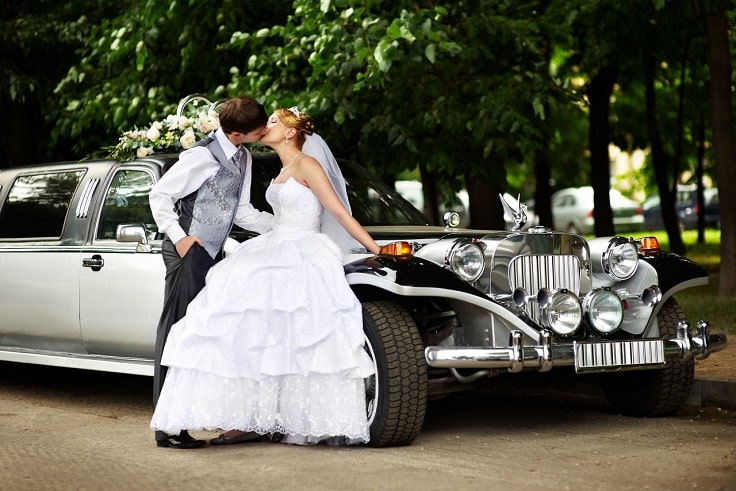 While the most popular type of wedding limo in Los Angeles is the Chrysler 300 limousine, we have other favorites' variety in a wedding limo rental. They include the Cadillac One, the Vintage Rolls Royce 1964 Holden , the Mercedes-Benz S-Class, and party Bus .
Our professional well-dressed and gallant chauffeurs are happy to serve you.
Our Driving Team
Our drivers are experienced, professional, and knowledgeable. They have an extensive understanding of all the routes to make your ride pleasurable. They take you to your wedding venue without traffic and on time.
Our company hires only top talent who drive safe and have exceptional peoples' skills.
All of our vehicles are in prime condition and spot the latest technology. They have plenty of amenities to satisfy your wants and needs fully. Prestigious and aesthetic cars of our wedding limo service will make a stylish photo session exceptionally bright! We also provide video services during the ride.
Our exceptional limos will help make your wedding in Frederick MD , Washington DC metro area  gorgeous and unforgettable. Riding with our cars will give a lot of one-of-a-kind memories, excitement, and fun.
Our Customer Service
Our company knows what customer service is really about. We have the dedication, experience, and reputation to prove it to you.
We are here to make your dreams come true on your special day.
Our team treats every customer as gold to take your wedding limo experience to the next level.
During your wedding day, you should pamper yourself and your significant one (and of course your friends and family who will ride with you). It includes riding in style with our wedding limo rental. Our limousines provide the ultimate comfort and sophistication. When you are planning for your special day, make it a memorable experience with our Limo service Frederick MD.
So, it is up to you to decide what kind of fairy tale you would like for your wedding day. However,  it's up to us to deliver a one-of-a-kind experience to you!
WEDDING TRANSPORTATION WASHINGTON DC 
Read More